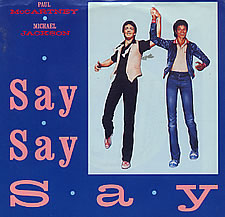 1. Paul McCartney & Michael Jackson - Say Say Say (0)
2. Daryl Hall & John Oates - Say It Isn't So (+2)
3. Lionel Richie - All Night Long (All Night) (-1)
4. Billy Joel - Uptown Girl (-1)
5. Duran Duran - Union Of The Snake (+2)
6. Pat Benatar - Love Is A Battlefield (-1)
7. Yes - Owner Of A Lonely Heart (+4)
8. Kenny Rogers & Dolly Parton - Islands In The Stream (-2)
9. Olivia Newton-John - Twist Of Fate (+3)
10. Culture Club - Church Of The Poison Mind (0)
11. Rolling Stones - Undercover Of The Night (+3)
12. Quiet Riot - Cum On Feel The Noize (-4)
13. Irene Cara - Why Me? (0)
14. John Cougar Mellencamp - Crumblin' Down (-5)
15. Peter Schilling - Major Tom (Coming Home) (+3)
16. Police - Synchronicity II (0)
17. Big Country - In A Big Country (0)
18. Matthew Wilder - Break My Stride (+1)
19. Elton John - I Guess That's Why They Call It The Blues (+2)
20. Romantics - Talking In Your Sleep (+4)
21. Huey Lewis & The News - Heart And Soul (-6)
22. Rufus & Chaka Khan - Ain't Nobody (0)
23. Rick Springfield - Souls (0)
24. Barry Manilow - Read 'Em And Weep (+3)
25. Lionel Richie - Running With The Night (+5)
26. DeBarge - Time Will Reveal (0)
27. Culture Club - Karma Chameleon (+8)*
28. 38 Special - If I'd Been The One (+1)
29. Kool & The Gang - Joanna (+2)
30. Genesis - That's All (+4)
31. Ray Parker Jr. - I Still Can't Get Over Loving You (+1)
32. John Cougar Mellencamp - Pink Houses (NEW!)
33. Madonna - Holiday (+6)
34. Jeffrey Osborne - Stay With Me Tonight (NEW!)
35. Stray Cats - I Won't Stand In Your Way (+1)
36. Michael Jackson - P.Y.T. (Pretty Young Thing) (-16)**
37. Spandau Ballet - Gold (NEW!)
38. Fixx - Sign Of Fire (NEW!)
39. Naked Eyes - When The Lights Go Out (NEW!)
40. Barbra Streisand - The Way He Makes Me Feel (0)
Songs falling off:
Bonnie Tyler - Total Eclipse Of The Heart (25)
Motels - Suddenly Last Summer (28)
Peabo Bryson & Roberta Flack - Tonight I Celebrate My Love (33)
Asia - The Smile Has Left Your Eyes (37)
Sheena Easton - Telefone (Long Distance Love Affair (38)
Ad blocker interference detected!
Wikia is a free-to-use site that makes money from advertising. We have a modified experience for viewers using ad blockers

Wikia is not accessible if you've made further modifications. Remove the custom ad blocker rule(s) and the page will load as expected.