1. Bon Jovi - "Livin' On A Prayer" (0)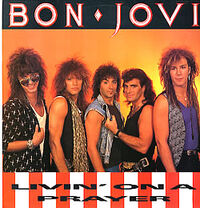 2. Georgia Satellites - "Keep Your Hands To Yourself" (+3)
3. Chicago - "Will You Still Love Me" (+3)
4. Huey Lewis & The News - "Jacob's Ladder" (+4)
5. Samantha Fox - "Touch Me (I Want Your Body)" (-1)
6. Jets - "You Got It All" (+5)
7. Lionel Richie - "Ballerina Girl" (+3)
8. Madonna - "Open Your Heart" (-6)
9. Ready For The World - "Love You Down" (+3)
10. Cyndi Lauper - "Change Of Heart" (-7)
11. Linda Ronstadt & James Ingram - "Somewhere Out There" (+3)
12. Bruce Willis - "Respect Yourself" (+6)
13. Peter Gabriel - "This Time" (+3)
14. Beastie Boys - "(You Gotta) Fight For Your Right (To Party)" (+3)
15. Cinderella - "Nobody's Fool" (-2)
16. Billy Vera & The Beaters - "At This Moment" (-9)
17. Luther Vandross - "Stop To Love" (-2)
18. Journey - "I'll Be Alright Without You" (+3)
19. Bruce Hornsby & The Range - "Mandolin Rain" (+8)
20. Boston - "We're Ready" (-11)
21. Chico Debarge - "Talk To Me" (+1)
22. Janet Jackson - "Let's Wait Awhile" (+8)
23. Eddie Money - "I Wanna Go Back" (+5)
24. Corey Hart - "Can't Help Falling In Love" (+1)
25. Dead Or Alive - "Brand New Lover" (+4)
26. Starship - "Nothing's Gonna Stop Us Now" (+9)
27. Jeff Lorber & Karyn White - "Facts Of Love" (+6)
28. Expose - "Come Go With Me" (+8)
29. Robbie Nevil - "C'Est La Vie" (-6)
30. Glass Tiger - "Someday" (-11)
31. Cameo - "Candy" (+3)
32. Genesis - "Land Of Confusion" (-12)
33. Benjamin Orr - "Stay The Night" (-9)
34. Europe - "The Final Countdown" (NEW!)
35. Wang Chung - "Let's Go" (+4)
36. Genesis - "Tonight Tonight Tonight" (NEW!)
37. Club Nouveau - "Lean On Me" (NEW!)
38. Crowded House - "Don't Dream It's Over" (NEW!)
39. Gregory Abbott - "Shake You Down" (-13)**
40. Stacey Q - "We Connect" (NEW!)
Songs falling off:
Janet Jackson - "Control" (31)
Billy Joel - "This Is The Time" (32)
Anita Baker - "Caught Up In The Rapture" (37)
Toto - "Without Your Love" (38)
Aretha Franklin - "Jimmy Lee" (40)
Ad blocker interference detected!
Wikia is a free-to-use site that makes money from advertising. We have a modified experience for viewers using ad blockers

Wikia is not accessible if you've made further modifications. Remove the custom ad blocker rule(s) and the page will load as expected.