1. Van Halen - "Jump" (+1)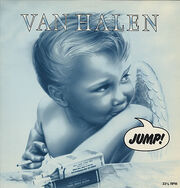 2. Culture Club - "Karma Chameleon" (-1)
3. Nena - "99 Red Balloons" (+1)
4. Cyndi Lauper - "Girls Just Want To Have Fun" (+5)
5. Michael Jackson - "Thriller" (+2)
6. Kool And The Gang - "Joanna" (-3)
7. John Lennon - "Nobody Told Me" (+5)
8. Shannon - "Let The Music Play" (+2)
9. Police - "Wrapped Around Your Finger" (+5)
10. Billy Joel - "An Innocent Man" (+3)
11. Genesis - "That's All" (-5)
12. Rockwell - "Somebody's Watching Me" (+14)*
13. Huey Lewis & The News - "I Want A New Drug" (+8)
14. Romantics - "Talking In Your Sleep" (-9)
15. Eurythmics - "Here Comes The Rain Again" (+9)
16. Duran Duran - "New Moon On Monday" (+6)
17. Lionel Richie - "Running With The Night" (-6)
18. Christopher Cross - "Think Of Laura" (-3)
19. Yes - "Owner Of A Lonely Heart" (-11)
20. James Ingram & Michael McDonald - "Yah Mo B There" (0)
21. Christine McVie - "Got A Hold On Me" (+4)
22. Kenny Loggins - "Footloose" (+10)
23. Dan Fogelberg - "The Language Of Love" (+5)
24. Pretenders - "Middle Of The Road" (-5)
25. Kenny Rogers - "This Woman" (+5)
26. John Cougar Mellencamp - "Pink Houses" (-10)
27. Pointer Sisters - "Automatic" (+8)
28. K.C. And The Sunshine Band - "Give It Up" (+5)
29. Matthew Wilder - "Break My Stride" (-12)
30. Sheena Easton - "Almost Over You" (+4)
31. Daryl Hall & John Oates - "Adult Education" (NEW!)
32. Elton John - "I Guess That's Why They Call It The Blues" (-14)**
33. Re-Flex - "The Politics Of Dancing" (+4)
34. Tina Turner - "Let's Stay Together" (+4)
35. .38 Special - "Back Where You Belong" (+5)
36. Manfred Mann's Earth Band - "Runner" (+3)
37. Paul McCartney - "So Bad" (-14)**
38. Howard Jones - "New Song" (NEW!)
39. Thompson Twins - "Hold Me Now" (NEW!)
40. Olivia Newton-John - "Livin' In Desperate Times" (NEW!)
Songs falling off:
Ray Parker Jr. - "I Still Can't Get Over Loving You" (27)
Real Life - "Send Me An Angel" (29)
Quiet Riot - "Bang Your Head" (31)
Madonna - "Holiday" (36)
Ad blocker interference detected!
Wikia is a free-to-use site that makes money from advertising. We have a modified experience for viewers using ad blockers

Wikia is not accessible if you've made further modifications. Remove the custom ad blocker rule(s) and the page will load as expected.