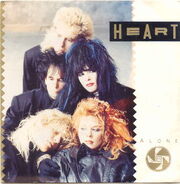 1. Heart - Alone (0)
2. Bob Seger - Shakedown (+1)
3. Whitney Houston - I Wanna Dance With Somebody (Who Loves Me) (-1)
4. System - Don't Disturb This Groove (+1)
5. Expose - Point Of No Return (+1)
6. Pseudo Echo - Funkytown (+1)
7. U2 - I Still Haven't Found What I'm Looking For (+3)
8. Crowded House - Something So Strong (0)
9. George Michael - I Want Your Sex (+2)
10. Gloria Estefan - Rhythm Is Gonna Get You (+2)
11. Kenny G - Songbird (-7)
12. T'Pau - Heart And Soul (+3)
13. Motley Crue - Girls, Girls, Girls (0)
14. Nylons - Kiss Him Goodbye (+4)
15. Jets - Cross My Broken Heart (+7)
16. Bruce Hornsby & The Range - Every Little Kiss (-2)
17. Janet Jackson - The Pleasure Principle (+3)
18. Lisa Lisa & Cult Jam - Head To Toe (-9)
19. Klymaxx - I'd Still Say Yes (+4)
20. Surface - Happy (+4)
21. Robbie Nevil - Wot's It To Ya (+4)
22. Suzanne Vega - Luka (+7)*
23. Al Jarreau - Moonlighting (Theme) (+4)
24. Debbie Gibson - Only In My Dreams (+4)
25. Steve Winwood - Back In The High Life Again (+6)
26. Whispers - Rock Steady (+6)
27. Smokey Robinson - Just To See Her (-11)
28. Richard Marx - Don't Mean Nothing (+5)
29. Genesis - In Too Deep (-12)
30. Bryan Adams - Hearts On Fire (+5)
31. Fleetwood Mac - Seven Wonders (+3)
32. Atlantic Starr - Always (-13)
33. Madonna - Who's That Girl (NEW!)
34. Starship - It's Not Over ('Til It's Over) (NEW!)
35. Level 42 - Lessons In Love (-14)**
36. Los Lobos - La Bamba (NEW!)
37. Jennifer Rush & Elton John - Flames Of Paradise (-1)
38. Herb Alpert - Diamonds (-12)
39. Club Nouveau - Why You Treat Me So Bad (NEW!)
40. Cutting Crew - One For The Mockingbird (NEW!)

Songs falling off:
Eddie Money - Endless Nights (30)
Bon Jovi - Wanted Dead Or Alive (37)
Kenny Loggins - Meet Me Halfway (38)
Kim Wilde - You Keep Me Hangin' On (39)
Billy Idol - Sweet Sixteen (40)
Ad blocker interference detected!
Wikia is a free-to-use site that makes money from advertising. We have a modified experience for viewers using ad blockers

Wikia is not accessible if you've made further modifications. Remove the custom ad blocker rule(s) and the page will load as expected.